Posted by Stelleractive on Jun 10, 2008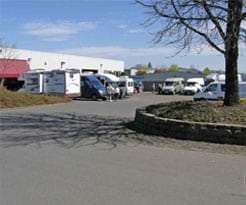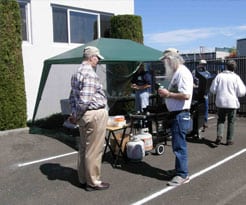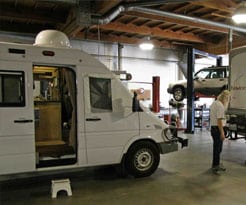 The Third Annual Northwest SprinterFest was held on April 12th, 2008 in the parking lot of Upscale Automotive and the Sprinterstore in Tualatin, Oregon. We want to thank everyone who attended and made the event the success that it was.
A special thanks goes to: Mike and Sue H. for sign making, registration and welcoming everyone. Bob S. for donating soft drinks, bottled water and for the fantastic job as Chef! The food was wonderful! Joe S. for helping with setup and tear down. Roy and Judy K. who could not attend this year but arranged Brisket and Chicken for everyone to eat. Marty S. for the really cool Sprinter hats that only attendees get to have. Troy G. from McCoy Freightliner for bringing the 08 Van and letting us drool all over it. And everyone who helped out!
This year we added 2 Weber grills and a cook out. Lots of tall tales were told while everyone enjoyed the fine food. The focus of the event seemed to revolve around Sprinter RV conversions. Several were on display and featured many up-grades and modifications. We had 23 rigs which included 3-4 View/Navions, a Gulf Stream Vista Cruiser Mini, 2 Westies, a Vista Cruiser B, pictures and up-dates on Al's Cab Chassis conversion still in progress, a Mog Junior, a Mighty Mouse, an expediting van and trailer, and a bunch of personal conversions and conversions in progress.
Next year we hope to take the event to another level. So…stay tuned, next year will be here before you know it!