About The Classic Accessories:
The Classic Accessories Story In the Beginning Classic Accessories was born in 1983 in a small basement in Seattle, WA. Our founder Jacob Engelstein started by creating seatbelt pads, steering wheel covers, and fuzzy dice. Over the past three decades, the company has steadily expanded its range of products and distribution. Today, Classic Accessories is the leading manufacturer of high-quality covers, furnishings, and accessories. The Classic Accessories family includes: Classic Accessories, a premium line of covers and outdoor living furnishings Duck Covers, a mid-tier brand of covers, hammocks, umbrellas, and cushions. All our Duck Cover products feature trending colors and styles at accessible prices Cover Bonanza, which offers lower-price branded products, along with off-price and discontinued items.
Colors may not be representative of the actual product. Color variations can be due to camera filters and the settings of your monitor as well.
What class does this cover fit?
It fits a Class C RV.
Is there a particular measurement we can go off of instead of having to look up "C"?
Sure, the manufacturer says this fits 20' to 38' RVs.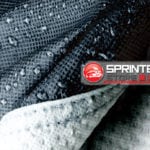 How many ply (if that's the right word here) does that cover have?
It has 3 ply or three layers.
Is it waterproof?
Water resistant is a more correct word. It has limits as you can see from the photo to the right of this answer.
What is the cover made of?
The manufacturer says that they used PolyPRO to make this product. PolyPRO dries very quickly while providing a durable protection for your Sprinter van.
So this provides, at least, reasonable resistance to snow and rain, correct?
Yes. It has three layers that help it protect your Sprinter against the elements.
Does it also protect against other things like cat prints, rocks, mud, and other stuff?
Yes. It covers and protects your Sprinter from most things that could otherwise ruin it if it were not covered by some kind of product.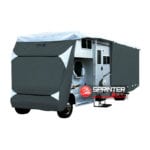 What's with these panels I see in the picture?
Apparently, according to the manufacturer, the panels can be zipped and unzipped to allow you to open your doors or access things like your engine.
I assume this a tight fit. How does it accomplish this fitment?
The corners are hemmed and include elastic corners. However, the cover still allows some air flow on purpose. It makes use of integrated air vents that help the cover deal with wind stress and get rid of excess moisture that would otherwise build up inside the cover.
How do I clean this cover once I get it?
A brush and warm water is the best way to do it.
Can I use a chemical cleaner on it?
We have not heard an official answer on this but we would avoid doing so because the chemicals may damage some of the fibers of the cover.
What colors or color does this come in?
The cover only has one color available. The color is white and grey. The manufacturer says that it is "grey and snow white" officially.
fb_visibility:

1

fb_product_group_id:

1723635734411957

cwg_total_subscribers:

5