Description
Ford Transit Van Amp Research Electric Driver and Passenger Side Running Board Power Step
  Please note that this item only ships free to the Contiguous United States. It does not include Canada, Hawaii, Alaska, or the other USA territories.  
Does not WORK WITH DIESEL
Works with GASOLINE-POWERED TRANSIT ONLY
Ford | Transit | 2014 – 2018
Amp Research AMP 76159-01A – 76259-01A
Running Board
PowerStep
Black Textured Powder Coated Die Cast Aluminum
Lighted
Frame Body Mount Bolts
One Step For Passenger Side Front and Sliding Door
600 Pound Capacity
Getting into your truck shouldn't feel like climbing Mount Everest…
That's why AMP Research invented POWERSTEP™, the automatic, electric-powered running board that instantly extends when you open your door, and then hides itself safely out of sight when the doors close for improved ground clearance, aerodynamics and appearance.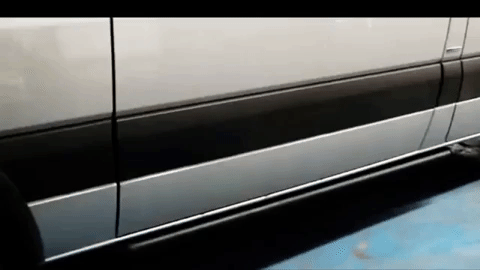 Its handsome design, all-weather performance, and legendary reliability set the industry standard. Its industry-leading 5 Year/60,000 Mile warranty. Invented, engineered and built in America, AMP Research PowerStep™ has been tested and proven in long-term, real-world, driving conditions performing flawlessly in snow, ice, dust, mud, and dirt. The lightweight, yet rock-solid running board and rugged die-cast linkage components are crafted in the USA of aircraft-quality aluminum, black-anodized and Teflon(R) coated for maximum corrosion protection. Precision, stainless-steel hinge points and bearings ensure trouble-free action. And the heavy-duty electric motor is designed and tested to provide reliable, maintenance-free operation for decades.
Includes Mounting Bracket
:
Yes – Universal-Fit Type
Mounting Location
:
Frame Body Mount Bolts
Weight Capacity (LB)
:
600 Pound
With Plug And Play Wiring Kit

:
No
Color/ Finish
:
Black Textured Powder Coated
Features
Automatic power-deploying running boards
Low-profile integrated LED light system – Standard
High-strength, die-cast aluminum-alloy components with an anodized and Teflon®-Coated, military-spec finish to resist corrosion
Precision stainless-steel pivot pins for rock-solid stability. Maintenance-free, self-lubricating bushings for all-weather performance
Extruded aluminum steps with full-length internal ribs for rock-solid stiffness, rigidity and support with a high-texture. Powder-Coat finish for maximum grip and durability
600 lbs load capacity (each side)
Weatherproof, OEM-Quality electric motors, drive system and wiring harness. Pressure-sensitive, pinch-proof safety technology
Limited 5 year or 60,000-mile warranty
The Ford Transit Automatic Running Board Electric Step is the ultimate step for any heavy-duty conversion.
The Amp Research PowerStep is covered by a limited 5 Year warranty.
The distance from the interior floorboard to the top of the deployed step is approx. 10 inches.
Each kit includes one PowerStep for the passenger side and one for the driver side that covers the front and sliding door. This 79-inch step includes OEM style illumination, assembly with wire harness, electronic controller, mounting hardware and detailed installation guide.
If you are searching for a van that is versatile and gratifies anyone's taste, one that will carry passengers or cargo, the answer is the Ford Transit Van and the Automatic Running Board Electric Step is the answer to your prayers. Just the name Ford rings a bell in most automotive owner's minds. Put that together with a vehicle that can carry over ten people or haul your cargo and the Ford Transit Van comes out on top. It's a sure winner, manufactured in a sleek style so characteristic of the Ford brand. For example, the transport area is great for companies and the Ford Transit Van Running Boards are second to none! The Transit is perfect for an airport shuttle, luxury RV, commercial carrier, or cab chassis. The Ford Transit Van is what large vehicles are all about; comfort, opulence, quality, and endurance.