ADDITIONAL Tank added to your system.
Spare Tire Auxiliary Fuel System (STAFS™) puts an additional 30 gallons of fuel at your fingertips. In most cases, this doubles the fuel capacity of a diesel vehicle made after 2006. This innovative system is designed to re-purpose the space commonly used to stow a vehicle's spare tire.
34.5 Gallon innovative Spare Tire Auxiliary Fuel System.
For 2500 and 3500 Models with 3.0L Engines.
For model years 2007-2018.
Its underbody location means that it has no impact on the truck bed's hauling space. In many cases where aftermarket custom wheels and tires are installed on a vehicle, they are not the same size as standard which means the original equipment spare cannot be used anyway.
The STAFS™ military grade cross-linked polyethylene tank body is light at only 30-pounds, making it easy for one person to handle and includes mounting hardware, a filler kit, and an electronic fuel transfer monitor and control unit which is operated from the comfort of the cab. The electronic system gives the vehicle operator total flexibility in managing how the extra fuel capacity is used.


The fuel can be held in reserve or transferred on-the-go as the need arises. The controller's illuminated user interface indicates the tank's fuel level and features a single-touch button that starts the fuel transfer sequence. With one touch, fuel begins transferring from the STAFS™ tank to the vehicle's primary fuel tank and continues to flow until it is automatically stopped by the controller or the button is touched again.
The new SPRINTER VAN system comes with a universal filler kit featuring an attractively brushed aluminum door that can be installed on the vehicle's exterior sidewall or on an inside wall of the truck bed. All of the mounting brackets, hoses, valves, and pump are included with each system. FAQ:
Am I getting all the hardware that I need to install this? What is actually in this kit as far as hardware?
The kit includes the following things: hoses, fittings, and wiring. If you need it to hook this item up then you will get it. You will just need a toolset to use.
Does the fuel gauge have anything special about it? I'm guessing that it has one.
The product does have a fuel gauge. The fuel gauge has a tank mounted sending unit included.
Where do you mount the tank?
You can mount this tank, per the manufacturer, behind and under the driver side seat. The driver side wheel will be the location where you can find the well's filler neck.
Then how does the tank fit?
It fits outside the frame but still on the driver side of the vehicle.
I never asked about wheelbases and I need to ask about them. Which wheelbases will this fuel tank fit?
The product fits all 144", 170", and 170" EXT vans. It has a fill tube hard extension to accommodate for the different lengths.
More about that tank... What is holding it in place?
The tank is held in place by carriage bolts.
If that filler tubbing gets bent is that going to be a problem for this system?
Fortunately, no. They used a very flexible tube that should not be bothered if it gets bent a little bit. Obviously, if the tub becomes tightly bent where it cannot do the job then that will be a problem.
Since this is a fuel tank does that mean that it has a fuel filter too?
It does have a fuel filter. It says that the filter is a remote inline fuel filter.
I'm worried about overfilling my tank. What features does this thing have to avoid that problem?
The product has a timer switch transfer control.
Seems like there is a lot of questions about everything but the fuel transfer pump. What can you tell me about it? Does it exist? What features if any does it have?
We were told that the Inline fuel transfer pump includes a bracket and is 12v.
How much fuel does this add to my tank?
You have the possibility of adding up to 34.5 gallons of extra gas to your system.
Is there a recommended amount of fuel that should be gone or left before I start thinking about starting to use this product?
A lot of people start using this auxiliary tank when there is only half a tank of gas left. It seems to work well around this usage rate.
I've seen this thing has a brass fitting. Where does it go?
The brass fitting has to be installed in an OEM fuel tank. It has to be very close to the top in order for the fuel transfer to work properly.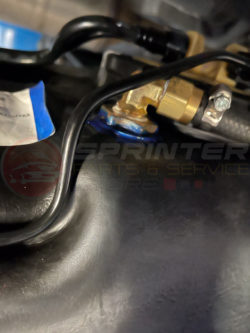 Wait, won't this thing make my ground clearance much smaller?
We have not had a problem with this in the past. It is a valid concern but we have not heard of anyone having any trouble with the system at all.
Note: Must be installed on vehicles by a Certified Mechanic. Preferably an ASE Master Tech like we have at our repair shop.

https://youtu.be/A5nSAUGyQXo
fb_visibility:

1

fb_product_group_id:

1571782346216998

fb_product_item_id:

1571782349550331