About CURT:
CURT, a Lippert brand, offers a complete line of towing products and is the leading manufacturer of USA-made custom-fit trailer hitches. We offer the broadest selection of custom-fit receiver hitches for nearly every vehicle on the road today. We also offer gooseneck, 5th wheel and weight distribution hitches, as well as electrical components, ball mounts, trailer balls, cargo carriers, bike racks and other towing accessories. one of the special products is Sprinter Van Curt 5/8" Hitch Lock - 2" And 2 1/2" Receiver #23528


For everything from passenger cars and vans to full-size pickups and SUVs, CURT is 'The First Name in Towing Products®.'
Sprinter Van Curt 5/8" Hitch Lock - 2" and 2 1/2" Receiver #23528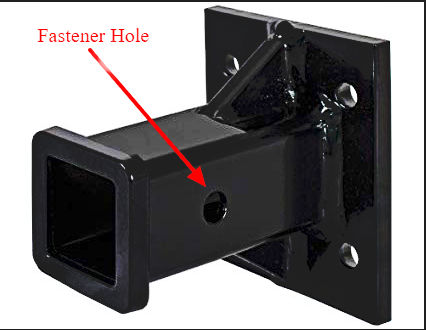 I've never owned a hitch before and I don't know where I would put this lock. Do you know?
The hitch lock is meant to fit in the fastener hole.
Ok, where do I find this fastener hole then?
You can find the fastener hole on the receiver tube. It will be located on the sides of the receiver tube. See the picture to the right of these two sentences or above them.
I have a coupler lock as well. Can I use these two locks in conjunction with each other?
The answer is yes. In fact, the manufacturer says that this is a very good idea since it will provide you with extra protection from theft.
Isn't this thing going to rust if it is outside all day?
The product has a dust cap. The dust cap also does a second job which is that it keeps the rain out of your lock. If you use this cap then you should be able to minimize your rusting to a great degree.
How many keys do I get with this product? I need to be able to give my wife a set too.
The hitch lock comes with two keys that you can do with as you please.
This is a manual lock, then? No bluetooth or biometrics way to open it?
The lock is a manual lock. You can only open or close it using the keys.
I've not been able to find information if this will work with double-walled receiver tubes. Do you know?
The information we were able to find about the usability of this product with double-walled receiver tubes seems to say that it is not compatible with them.
How much of the pin length can I actually use?
The official measurement from CURT is 2.850" of usable pin length.
I just want to make sure about this fact... What is the pin diameter of this hitch lock?
We were told by CURT that the pin diameter is 5/8".
What size of receiver tube does this fit?
We were told it fits 2" and 2 1/2" receiver tube sizes.
fb_visibility:

1

fb_product_group_id:

1710720359052792

fb_product_item_id:

1710720389052789