About CR Laurence:
CRL is the industry's leading full-service provider of architectural metals, glass fittings, and professional-grade glazing supplies. With over 50 years of experience and a track record of industry firsts, we've built hard-earned trust with our customers. We've learned what matters most to them and put that knowledge to work so we can be better partners. We offer a one-stop shop with a breadth of choices and fast, reliable service to help our customers complete more projects on time and on budget.
Mercedes Benz Metris Passenger Side Sliding Door Window | FW642R
This product is compatible with all Mercedes Benz Metris Vans.
NOTE: Please allow 10-14 days for shipping
This product ships via freight, all orders must be shipped to a commercial location with a dock for unloading. If your shipping address does not meet this requirement then you may be subject to a $100 charge to cover additional freight costs.
What is the official part number for this window?
The official number we have for this product is FW642R.
Which Metris vans are compatible with this window?
This product is compatible with all Mercedes Benz Metris Vans.
Does this window have frames?
This window has "all-glass" frames. They may look like there is no frame but we were told that these windows do include frames. They are just expertly hidden to add to the look of the window.
What is the official tint level of this glass?
The official number says that the tint is 28%.
What is the official color of the glass?
The official color of this glass is dark gray glass.
Where do you put this window? I don't want my installers to be putting this thing on the wrong side.
The location that this window was designed to fit is the passenger's side sliding door window.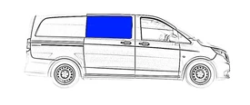 Who is the manufacturer of this window?
This is a C.R. Laurence window.
FW642R
fb_visibility:

1

fb_product_group_id:

2463274790375319

fb_product_item_id:

2463275657041899