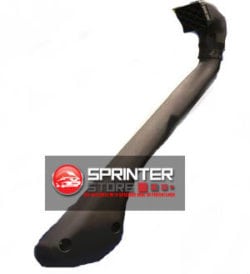 2010-2018 Terrawagen Sprinter Snorkel Kit
About Terrawagen:
Owner Eric Didier, has always been a car fanatic. At the age of ten Eric started driving and wrenching on a 1954 Renault 4CV given to him by his grandfather. Vans have always been in the family, starting with a Volkswagen van owned by his father purchased new in 1969. As soon as he received his license, Eric started customizing VW vans. From early Split windows, Bay windows, Vanagon's, and now Sprinter's. VanLife is in his DNA. Terrawagen started by producing clever accessories for the Vanagon and soon realized the potential for the Sprinter market. one of Terrawagen's special products is Terrawagen Sprinter Snorkel Kit
FAQ's
Does this snorkel go underwater?
No. It is an air intake snorkel and was not meant to go underwater.
What exactly is an air intake snorkel?
A snorkel is a device often used on an overland vehicle that moves the engine's air intake from under the hood to a position at roof height. The device is connected to the engine's intake with a coupler and ran out of the engine compartment through a hole in the fender.
Why do people use snorkels?
The use that people often associate with a snorkel on a vehicle is preventing water from entering the engine. People also use snorkels in order to provide the motor with cleaner air. By raising the position of the air intake to an elevated position, a snorkel helps to prevent high density dust kicked up by the wheels from entering the air system.
What years does this thing fit?
Terrawagen told us that this air snorkel fits 2010 to 2018 Mercedes Sprinter vans.
Are there other names I might be able to find this thing under?
The Terrawagen Sprinter Snorkel Kit is also known as:
An air intake snorkel or a vehicle snorkel.
Do I have to go out and buy screws or whatever for this installation?
No. You will get all the hardware you need to install this item as far as the screws and such are concerned.
Is snow going to build up in this thing?
Terrawagen actually recommends that you turn your snorkel intake to face toward the rear of your vehicle if you encounter heavy snow.
Why is the filter so high in the air?
The height is to make sure that you are receiving air that is as clean as possible. If you are driving down an area with a lot of swirling sand or dirt then you will want to draw out clean air from as high as possible to minimize the particles in your air intake.
Is the snorkel so I can breathe or is it for my vehicle?
The snorkel helps your Sprinter function better.
Not confirmed to fit 2019 models as of yet. We are currently researching what parts will fit the 2019 models of Sprinter vans.
Proposition 65 information available here – https://www.sprinterstore.com/proposition-65-california-cancer-warnings/.
fb_visibility:

1

fb_product_group_id:

2035880609807605

fb_product_item_id:

2035880656474267