About CURT:
CURT, a Lippert brand, offers a complete line of towing products and is the leading manufacturer of USA-made custom-fit trailer hitches. We offer the broadest selection of custom-fit receiver hitches for nearly every vehicle on the road today. We also offer gooseneck, 5th wheel and weight distribution hitches, as well as electrical components, ball mounts, trailer balls, cargo carriers, bike racks and other towing accessories. one of the special products is Sprinter Van Curt 5/8" Hitch Lock - 2" Receiver #23518

For everything from passenger cars and vans to full-size pickups and SUVs, CURT is 'The First Name in Towing Products®.'
5/8 Inch 2 Curt Hitch Lock Receiver - 23518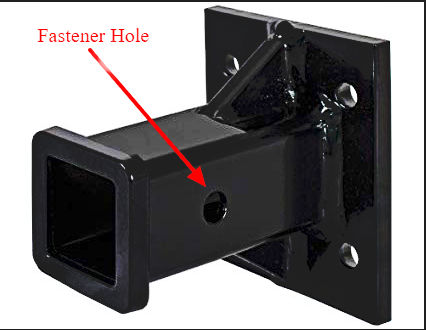 How does this lock receiver fit? I mean I get it's a hitch lock but where, exactly, does this lock go?
The hitch lock goes into the fastener hole. The fastener hole is located on the side of a receiver tube.
Will this hold a ball mount?
Yes. The product was designed to work with ball mounts or other hitch mounted accessories.
Couldn't I just use the CURT hitch pin I already have?
CURT says that you could do that but the CURT hitch lock does more. It will not only hold your ball mount or your hitch-mounted accessory but it will also lock them into your trailer hitch. The lock will deter people from trying to take your cargo and towing it away.
Does this lock work with double-walled receiver tubes?
Unfortunately, no. The product will not work with those types of tubes.
What is the usable pin length?
We were told that it is 2.850".
What is the pin diameter of this lock receiver?
The pin diameter is 5/8".
This is a.. Barbell design?
Correct. The product has a barbell design.
How far do I actually have to twist this lock receiver to get it to turn? I know some of them have ridiculous amounts needed and I want to avoid that. They're nearly impossible to take off because I don't have the room to turn the thing.
You only have to use a 1/4 turn to get it to unlock.
What size of receiver tube does this fit?
We were told it fits a 2" receiver tube size.
My last hitch with a lock rusted and I couldn't open it. Do these have some kind of protection against that?
Yes. They include a dust cap that keeps out water and keeps your lock from corroding.
Could I use a hitch lock like this and a coupler lock?
Yes. In fact, the manufacturer says that doing so will help you have your vehicle-side and your trailer-side locked up very well.
I tend to lose things... How many keys do I get with this lock?
You get two keys.
fb_visibility:

1

fb_product_group_id:

2440522146071229

fb_product_item_id:

2440522162737894