Universal Sprinter Van Seat Cover
This product is compatible with all Sprinter Vans.
NOTE: The price shown is for one Seat Cover.
Is this seat cover waterproof?
No. Unfortunately, this item is not waterproof.
What is this seat cover made of?
It is made of 600 Denier Polyester. It also has a PVC liner.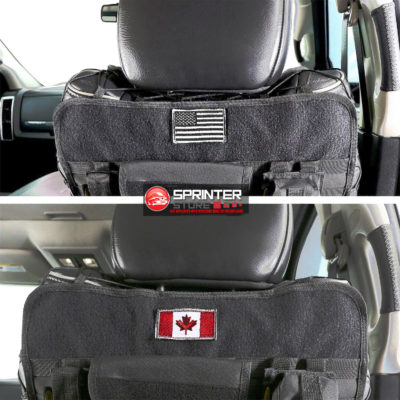 What color is this thing? I sometimes have a hard time figuring out if something is indigo or black.
The seat covers you are looking at here are the color black.
Where are these covers supposed to go?
The covers were designed to go over the front seat covers.
What kind of design is this thing?
It is a Molle/Pals design.
What does Molle mean anyway?
Molle is an acronym. Molle actually stands for Modular Lightweight Load-carrying Equipment.
Ok, how does that work in this context then?
The Molle buckles attach to the PAL webbing which makes them modular and attachable.
What does PALS mean then?
PALS means Pouch Attachment Ladder System. Molle and PALS work together to give you the ability to attach pouches where you see the fabric strips or "webs".
What can you tell me about the pouches on this seat cover?
All the pouches on the seat cover include self-correcting/self-healing zippers, buckles, and snaps.
What exactly is a self-correcting zipper?
A self-correcting zipper is a zipper that can be fixed by zipping back over the area that has come loose. You can, then, zip back over the area and it will close again like there was no problem. See the animated gif to see a zipper just like that in action. The gif should be to the right of this paragraph if you are on a desktop. If you are on a mobile device then it should have shown up before this paragraph.
Read the California Proposition 65 Warning here: https://www.p65warnings.ca.gov/
Are these being sold as singles or pairs?
The item or items you are looking at here are being sold as a pair.
fb_visibility:

yes

fb_product_group_id:

1951187704977414

fb_product_item_id:

1951187711644080

cwg_total_subscribers:

4